Experts urge investors to adopt a 'wait and see' policy. He says that this fall, he should avoid buying big for the short term. Long-term investors can buy
Shares on Thursday were nothing short of a nightmare for investors. Until a day ago, one would expect the Sensex to fall by 2700 points on Thursday. In fact, stock markets around the world were shaken by the news of Russia's attack on Ukraine on Thursday morning.
Indian stock markets opened with a big fall. Then the fall continues to increase as the day progresses. Finally, the Sensex fell 2,702 points, or 4.72 percent, to close at 54,529 points. The Nifty closed at 16,247 points after falling 815 points (4.78 percent). The good news is that the market was closing at 3:30 in the afternoon, otherwise the index will go down, there is no calculation.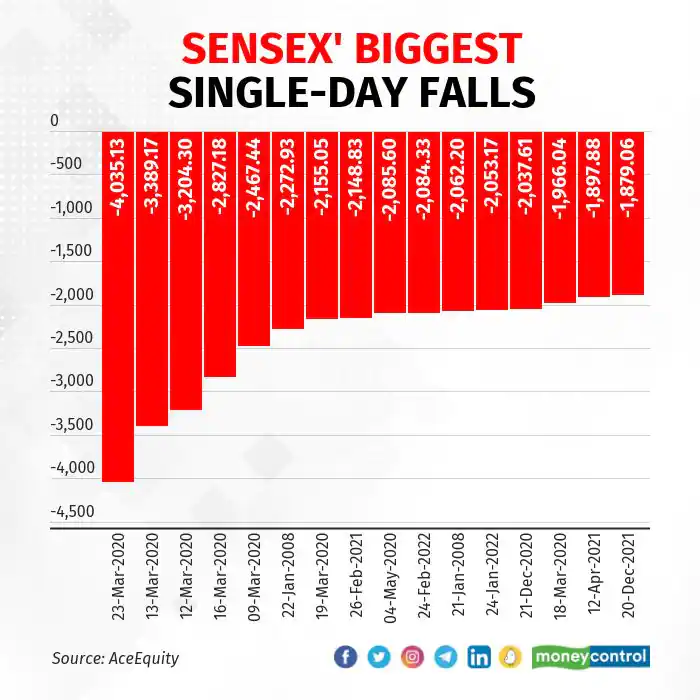 The biggest fall in the Sensex so far was on March 23, 2020. The Sensex was down 4,035 points during the day. In 2020, the Sensex fell 3,389 points on March 13. One day earlier, on March 12, 2020, it had taken 3,204 points. Then, on March 16 of the same year, it was down 2,827 points at the time of the transaction. Thus, the fall of 2,702 points on Thursday (February 24, 2022) is the fifth largest fall in the Sensex. This is the biggest fall since the market collapsed under the influence of Corona.
Read more: Worried about buying shares in the market? Which stock should be on your radar?
Experts have given their views on this fall. Naveen Kulkarni, chief investment officer at Axis Securities, said: "Geopolitical developments often lead to short-term market reactions. Big news increases market volatility. The Russia-Ukraine war will push up crude oil prices." "We believe that due to the current macroeconomic development, instability is visible in all asset classes. This position will remain for some time, then the market will find its direction," he said.
Experts urge investors to adopt a 'wait and see' policy. He says he should avoid making big purchases this fall. Ravi Singh, vice-president and head of research at ShareIndia, said: "Trading could continue for some time to come. This could lead to further correction of 8-10 per cent in key indicators. In this case, the Nifty could go up to 15,500." Singh says long-term investors who want to buy for 3 to 5 years can take advantage of this negative opportunity.
Vijay Chandak, MD and CEO of ICICI Securities, said that the situation is expected to return to normal after a while. "We do not think that sanctions on Russia will significantly increase the price of crude oil. The reason is that Europe and America will also suffer. It is an opportunity for investors to buy it. They should look at companies with sustainable growth," he said.